EDITOR'S NOTE: This article has been updated with pictures and new information
While Lars Olofsson has repeatedly stated that he is primarily interested in suing the facilitators of the cannabis scam, he is also now releasing the real names of the fraudsters behind Juicy Fields – and links to a previous, cut and copy paste scam that preceded it
While he is not straying from his focus and mission of prosecuting class action cases against the facilitators of the Juicy Fields scam, Lars Olofsson is, as he waits for the first court decision in Sweden to move forward, taking steps to help protect the victims of the Juicy Fields scam as well as reveal names of the actual criminals.
This way, law enforcement can focus on their primary jobs, of putting criminals in jail, as Olofsson and his litigation team continue to focus on the facilitators.
Spoiler alert. Juicy Fields was not their first scam.
The Juicy Fields Scam Precursor
Long before there was a Juicy Fields, the founders of the cannabis scam came up with a concept called "Recyclix."
Founded at the end of 2015, the idea behind the company was, again, deceptively simple.
Investors could buy plastic waste that could be upcycled into pellets that could then be reused in manufacturing. The company would buy raw, bulk plastic waste and then process it into recycled granulate that the company claimed it could sell for profits that would return investors up to a 40% ROI.
"Shares" in the scheme could be bought per 20kg of waste.
Investors could also invest in "machinery" involved in the process. The company claimed to have facilities or other operations to lure investors from Poland, the Czech Republic, Germany, Italy, Finland, Lithuania, Estonia. Russia, Latvia, Brazil, Morocco and the UK.
An ROI of over 100% annually was also promised.
Reyclix also offered a 12% commission on all new clients brought in by existing ones.
Investors could also create an account on the company website where they could supposedly "watch" their waste get recycled.
At the end of the first stage of the scam, there was also an "exit" in 2017 which occurred after the scammers claimed that their recycling facility had been destroyed by fire. However, even after the first exit, a "Recyclix Crisis Management Team" suddenly appeared which also repeatedly promised to help investors get their money back. The Facebook page of the operation, which ended its public posting as of July 16, 2017, has very revealing posts that show that the trajectory was also very similar to the ongoing claims in the Juicy Fields scam. There is still a website that claims to be in the same business still operational today, although two participants of the scheme, in Poland, were jailed in May 2021 for three years on a charge of aggravated money laundering. As of autumn 2021, the entire remaining team disappeared.
Authorities dropped the ball in most countries where investors were scammed, including in Poland where the original scam company, Recyclix Sp. Z.o.o. was estimated to have made over 39 million euros during the course of the scam.
There were an estimated 25,000-35,000 scammed investors in total.
A Direct Link to Juicy Fields
It's not only the shape, claims and course of the recycling fraud that seem familiar to the Juicy Fields scam. According to the Juicy Fields whistle-blower known as "Anders" the same criminal masterminds were behind both schemes. These are;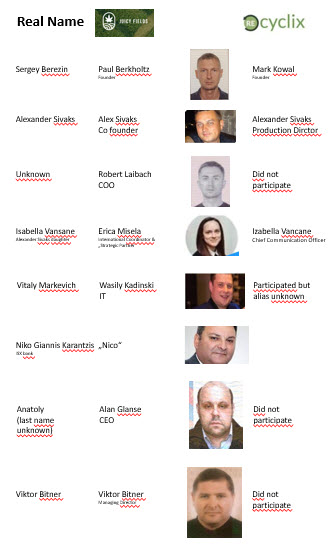 Next Steps
"Anders," the increasingly infamous Juicy Fields whistle-blower who operated as "muscle" and an enforcer for the company, is now cooperating with the Olofsson litigation team fully. He has no other option, after being repeatedly threatened and attacked, including in court via false claims and via death threats against him and his family. He is also willing to testify in any necessary criminal or other legal proceedings against any of the perpetrators of either scam.
Given the stakes, Olofsson is also encouraging scammed victims in both cases to go to law enforcement or other agencies in all countries where both frauds operated. It will help advance the legal cases he is planning on filing as well as the legal actions already initiated.
It also may help put a few more people in jail! Not to mention take some pressure off of those who are working to make investors whole and stop similar future scams.